Guide for applicants seeking admission to Islamic studies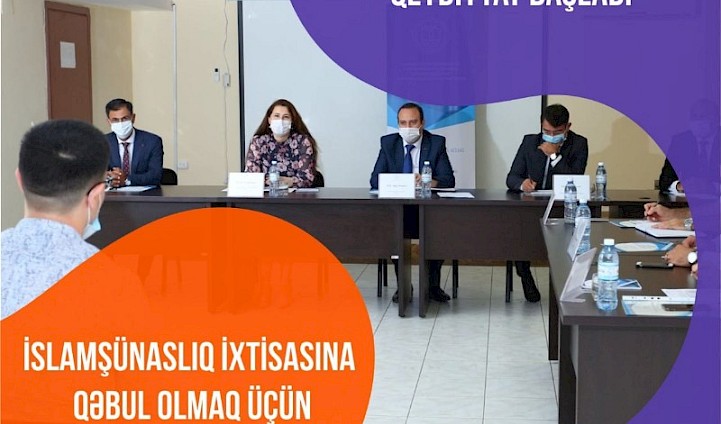 Applicants interested in participating in the interview for admission to the Islamic studies major at the Azerbaijan Institute of Theology should register at the Religious Psychological Commission (RPC) by July 24 at 23:59 (https://eservices.dim.gov.az/qabiliyyet/?frm=egov).
Applicants will be able to print their admission cards on July 25-27. The Department of Islamic Studies will operate in Baku. Interviews will be conducted by RPC.
Applicants who have chosen the 3rd specialty group and have a total score of 150 according to the competition conditions, including at least 50 points for the 2nd stage of the entrance exam, are eligible to participate in the interview. During the major selection process, applicants who received an acceptable interview grade will be able to indicate the specialty of Islamic studies in their electronic application. During the interview, applicants' outlook and religious knowledge, religious views, understanding of secularism, compatibility of psychological parameters with the specialty of Islamic studies, perceptions of tolerance and multiculturalism, loyalty to traditional values, attitudes to the sources of religion, faith and religiosity and life experiences will be discussed.
Applicants who pass the interview can choose from a variety of majors at Azerbaijan Institute of Theology, including Islamic studies.
The RPC is made up of theological specialists, experts, and the employees of Ministry of Education and Culture.
The competition for the specialty of Islamic studies in the 3rd specialty group is based on the applicants' total score in the entrance exam (as a result of two stages).
According to the State Examination Center, those who meet the competition conditions based on the results of the first attempt of the second stage of the general and entrance examination for the 3rd specialty group can register, while others can apply if they meet the competition conditions in both the general and the second attempt ( exam results will be announced in the next 2 days).