Chairman of the Azerbaijani Diaspora Organizations Association visited AIT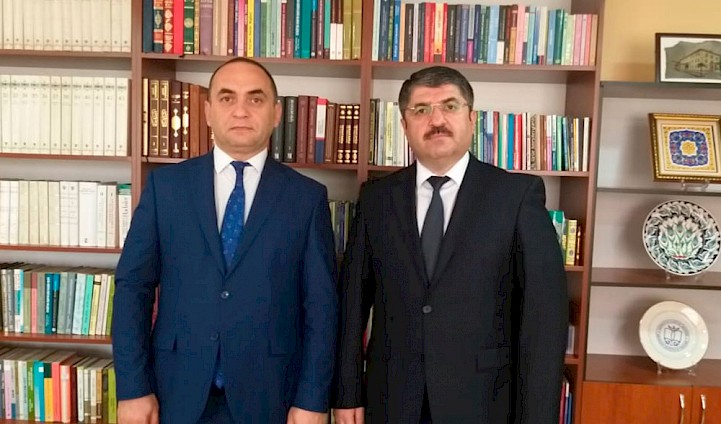 Azerbaijan Institute of Theology held a meeting with researcher Seymur Nasirov, Chairman of the Azerbaijani Diaspora Organizations Association in Egypt.
Rector Jeyhun Mammadov, gave a brief overview of the establishment reasons, directions and objectives of AIT and noted that the Institute is interested in establishing relations with foreign universities. J.Mammadov noted that over the past period, the Institute held meetings with Adel Ibrahim, Ambassador Extraordinary and Plenipotentiary of the Arab Republic of Egypt and Ahmed Sami Elaydi, former Head of the Center for Cultural and Educational Relations of the Egyptian Embassy in Azerbaijan.
The Rector emphasized that AIT organizes regular events to increase students' knowledge, skills, world outlook and intellectual level. To that end, the Institute aims to establish relations with the Egyptian universities.
Speaking highly of the goals and targets of AIT, Seymur Nasirov, Chairman of the Azerbaijani Diaspora Organizations Association in Egypt, wished success to the Institute in its further activity. He mentioned the historical and cultural relations between Azerbaijan and Egypt and said Azerbaijani language is taught in the Eastern Languages section of the Faculty of Literature at Cairo University. During the classes, students are informed about the ancient history, rich culture, traditions and the Armenian aggression against our country, occupation of our lands and the Khojaly genocide.
The researcher further noted that about a hundred students attended the Azerbaijani language courses. Mentioning his research on Azerbaijan in the Arabic sources conducted for more than two decades, the Chairman of the Union said that he is the author of two books about more than 250 Azerbaijani scholars. He also said that a large number of his academic and journalistic articles have been published in Arabic and Azerbaijani.