March 2019 issue of the newspaper Theologian was published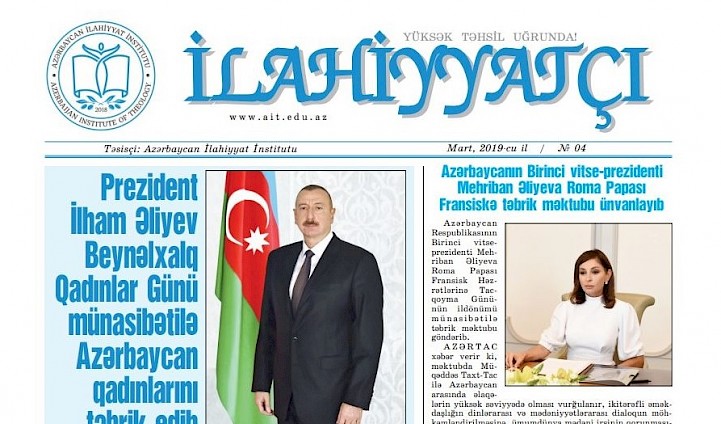 Azerbaijan Institute of Theology published March 2019 issue of the newspaper Theologian.
The first page of the newspaper introduces President Ilham Aliyev's congratulation on the occasion of March 8, International Women's Day and First Vice-president Mehriban Aliyeva's congratulation letter to Pope Francis on the occasion of the inauguration.
The second page presents President Ilham Aliyev's congratulation of the Azerbaijani people on the occasion of Novruz Holiday.
The third and fourth pages present an extensive article about the International conference on From Inter-religious and Intercultural Dialogue to Cooperation, organized jointly by The State Committee on Religious Associations of the Republic of Azerbaijan (SCWRA) and the Caucasian Muslims Office (CMO).
March issue of the newspaper also published the articles entitled "Development of Education in Azerbaijan is one of the Strategic Directions of the State Policy", "Azerbaijani Science is Successfully Integrating into the World" by Jeyhun Mammadov; "Funerals in the Context of History and Reality" by Agil Shirinov; "Genocide and Terror as a Threat to Our Existence and Identity" by associate professor Anar Gafarov and "Fiction and Teaching Tolerance" by Shahin Alasgarov.
Various pages of the newspaper present the articles entitled "... mankind will thrive with women"; "Spring comes with pleasure to the soul"; "February 26, the first lessons were dedicated to Khojaly Genocide"; "On February 26, Khojaly Massacre and March 31 - Genocide Day of Azerbaijanis"; "Anadolu news agency of Turkey and Milliyet newspapers write…" "…On the pages of Kuwait Al-Mujtama journal" and "Roundtable dedicated to the Genocide Day.
The newspaper also presents news about seminars, roundtables, events organized with the participation of public figures, scholars and researchers. The March issue reflects news on events such as "Mp Fazil Mustafa visits AIT"; "The shortest way to success"; "the Place and role of women in modern society"; "A seminar on Religion and Science"; "A workshop on Marbling art in Islam"; "Presentation of the UN Volunteers Program"; "Holiday event at Azerbaijan Institute of Theology"; "The Science day will be celebrated at AIT" and "AIT instructors in Arab Republic of Egypt".
The March issue also publishes articles reflecting students' social activities. "Students visited Heydar Mosque" and "For the development of individual self-expression" are of this nature. The visit of Institute team to Quba district on March 31, Genocide Day of Azerbaijanis, is reflected under the title "Quba traces of the Armenian brutality ..."
The newpaper reflects students' articles such as "Azerbaijani multiculturalism is an example to the world"; "When dreams come true" and "Time is a unique pearl".
The goal of the newspaper is to inform public about the Institute activity, implemented projects, increase students' patriotic feelings, their intellectual level and contribute to the religious awareness in the country.