Conference materials on Islamic Civilization and Science: History and Modernity have been published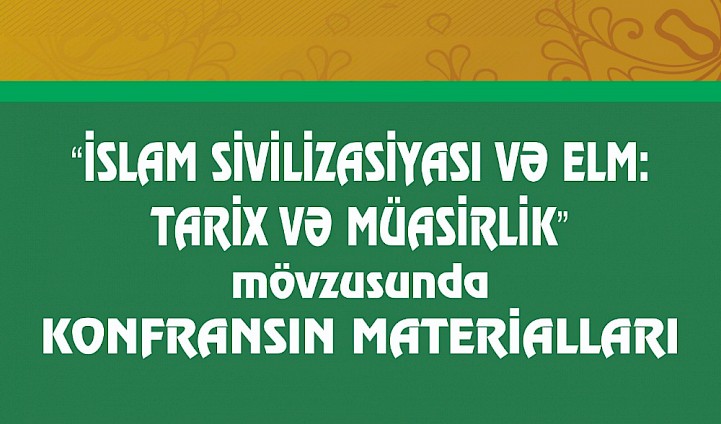 The materials of the conference on Islamic Civilization and Science: History and Modernity held on April 4, 2019, by Azerbaijan Institute of Theology and Council of Young Researchers of ANAS in accordance with President of the Republic of Azerbaijan Ilham Aliyev's decree on the celebration of March 27 as a Science Day, have been published.
Articles presented at the conference had been selected by the Organization Committee according to their relevance, academic significance, novelty and results. 17 articles had been included in the book.
The collection presents articles on the topics such as "Cloning from the perspective of Islamic bioethics", "The famous Azerbaijani scholars of the 14th and 20th centuries", "Drawings on artworks as an example of Turkic-Islamic culture", "Role of Islam in the material culture of Azerbaijan in the 18th and early 20th centuries", "Ahmed bey Agaoglu's views on science in Islamic religion", "First existent in Farabi's philosophy" and "The influence of Islamic religion on examples of applied arts" and oher issues.
AIT rector Jeyhun Mammadov noted in the preface that the state pays great attention to the development of science and education in our country. The events that are organized to increase the attention in this direction implemented in accordance with President Ilham Aliyev's decree on the celebration of Science Day dated April 9, 2018, aim to enhance the interest of young people in research.
J.Mammadov also noted that the Institute involves young people in research in the areas such as psychology of religion, sociology of religion, history and philosophy of religions and believes that these researches will contribute to various fields of science in the future.
AIT rector stressed that the Institute organizes various activities to increase students' interest in researches. The Institute offers secular subjects along with religious subjects. Such activities will bring young people together and will contribute to the development of interdisciplinary researches.
Azerbaijan Institute of Theology attaches a great deal of importance to the publication of academic books. The Institute is carrying out a number of projects concerning the publication of textbooks. Theological Publications project includes the publication of books by the Institute teachers and specialists working in this field. Moreover, the Institute aims to study problems in the field of theology, conduct and publish researchers that meet international requirements.