Gunel Aslanova achieved success and became a student after 19 years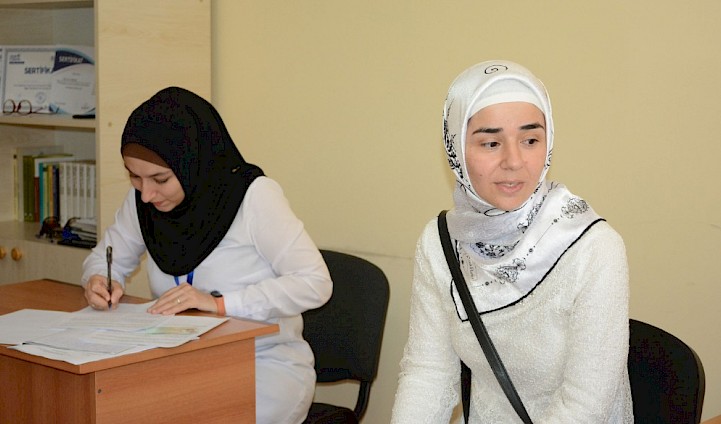 Gunel Aslanova achieved success and became a student after 19 years
- Gunel khanim, could you please introduce yourself .
- I finished Masalli Secondary School No. 3 in 2000. I am married and have 2 children.
- How did you decide to pursue your education after a long time?
- It was my childhood dream to get a higher education, promote religion in a right way as well as fight ignorance and prejudice. I have lost my father and brother at an early age. My brother went to fight in the Garabagh war voluntarily and was martyred. He wanted me to continue my education. Although I was an excellent student at school, I could not fulfill his wish because of financial problems.
Then I married. I told my future spouse that I wanted to study. Family and child care hindered the realization of my wish. But I never quit. It was destined to be so.
- When did you start preparing for the entrance exams?
- As I mentioned, I finished the secondary school with excellent marks. My desire was to get a higher religious education. Last year, by the order of President Ilham Aliyev, Azerbaijan Institute of Theology was established, and I decided to prepare for the admission to this Institute. That's true, I wanted to apply previous year. But as I was unaware of the applicaton date, I missed the deadline, yet I was not disappointed. This year I prepared for SEC admission exams in less than 2 months and scored 320 points.
- Why did you choose Azerbaijan Institute of Theology?
- I started to learn the Arabic and Farsi languages since I was 10. Since then I also started to read the Qur'an. I wanted to get a higher religious education and teach the younger generation religious studies. I wanted to make people realize the positive aspects of religion rather than understand it as ignorance.
- You have already been admitted to the Institute. What do you think?
- My goal is to study Islam and other religions comprehensively and promote them in an unbiased and right way. I want to continue my education to get masters and PhD degrees.